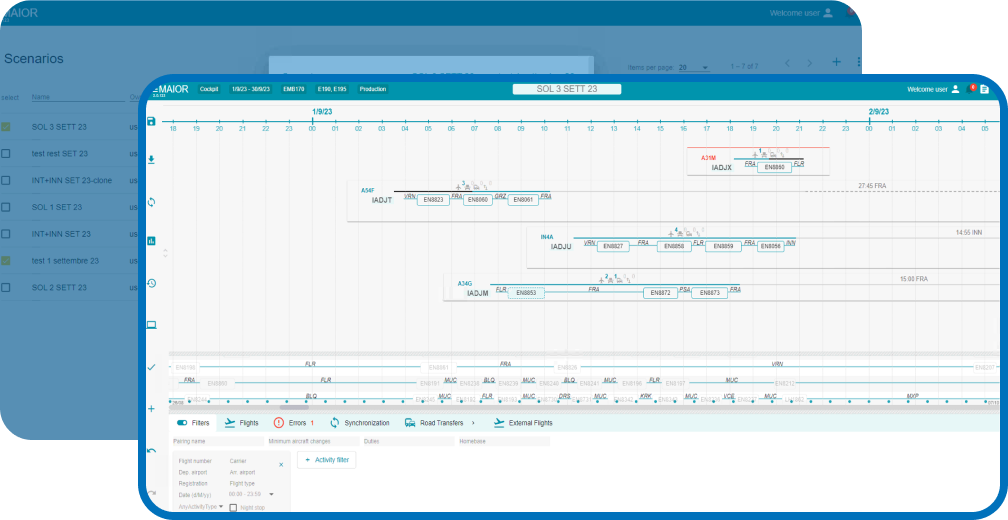 Airline Services Operations planning. Optimized.
The MAIOR Suite optimizes, automates, and simplifies all processes related to the creation and publication of air crew rosters, as well as the post-publication real-time management of crews and flights.
The MAIOR Suite is the combination of powerful automatic optimizers, web-based modern and a user-friendly interface, and complete seamless integration with 3rd party systems.
WITH
powerful embedded algorithms
thanks to
powerful built-in optimizers you will benefit from
✅ Advanced Optimization 
✅ Strategic Planning 
✅ Resource Efficiency 
✅ Performance Enhancement 
✅ Green Sustainability At the core of the MAIOR Suite designed for efficient airline service planning lies a set of robust optimization algorithms. Employing advanced service planning techniques, the MAIOR Suite effectively minimizes operational expenses by strategically enhancing routes, charging schedules, and energy consumption. Consequently, this approach maximizes operational effectiveness and efficiently utilizes the available resources.
The

total

solution

is

MAIOR Suite
We put the power of efficient planning and dynamic resource management directly in your hands, giving you maximum flexibility and control. 
The MAIOR Suite enhances all planning procedures to schedule a service that demonstrates the utmost cost-effectiveness. Various teams have the ability to collaborate on different scenarios, effectively strategizing for fleet management, pairings, and rosters. Multiple solutions can be generated and assessed, facilitating the selection of the optimal choice for publication.
The MAIOR Suite streamlines the handling of adjustments while taking into account all facets of daily real-time and short-term management. The integrated modules offer a comprehensive solution applicable from all viewpoints, swiftly realigning with existing plans. Subsequently, the different teams can assess both automated and manual solutions for evaluation.
Web application with focus on ease of use and general user experience
Transparency and Traceability
Ownership and goals of changes are tracked and maintained
Integrate data from crew portals and smartphone apps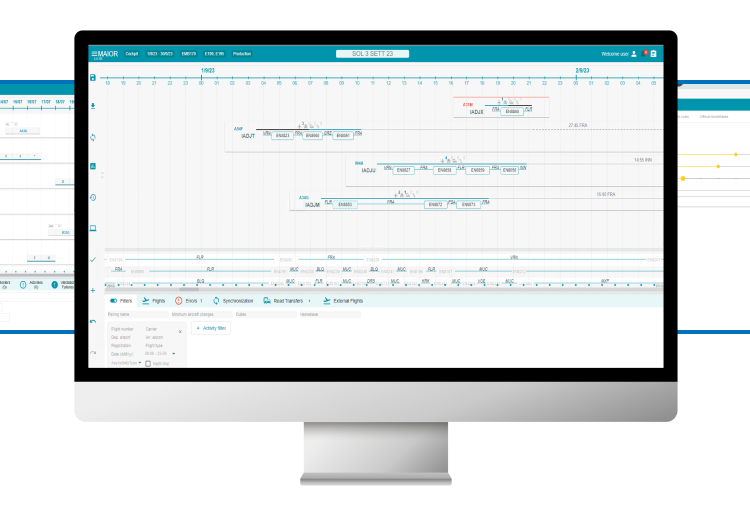 The MAIOR Suite leverages state-of-the-art technologies to achieve robustness, reactivity, and flexibility.
Each module has at its core an Oracle® Embedded Database to store data in a consistent and efficient way.
The MAIOR Suite provides powerful and simple means of software integration based on Web Services, manual export, and import of CSV files and messaging supporting Enterprise Integration Patterns.
The MAIOR Suite applies "passive" and "active" procedures like Static Code Analysis as well as Penetration tests executed by cybersecurity consultants.
Estimated full-time-equivalent report (Manpower component)
Estimate the required workforce at various levels (long-term planning, pairings planning).
Advanced Operations Planning Modelling
The MAIOR Suite (including algorithms and real-time validation) can leverage a rich set of data regarding aircrafts, crews, and rules.

Managing a public transport service?
The MAIOR Suite helps public transport authorities and operators managing e-bus, bus, streetcar, metro, and light rail serviceS